Virtual Online Staging or Decorating Consultation
Gem Home Staging is recognized by homeowners, realtors and investors as the premier, luxury staging and decorating company in the Niagara, Hamilton-Halton and Halton-Peel areas of Ontario. Always innovative and with the latest styles and trends in furnishings and accessories for your staging or decorating project.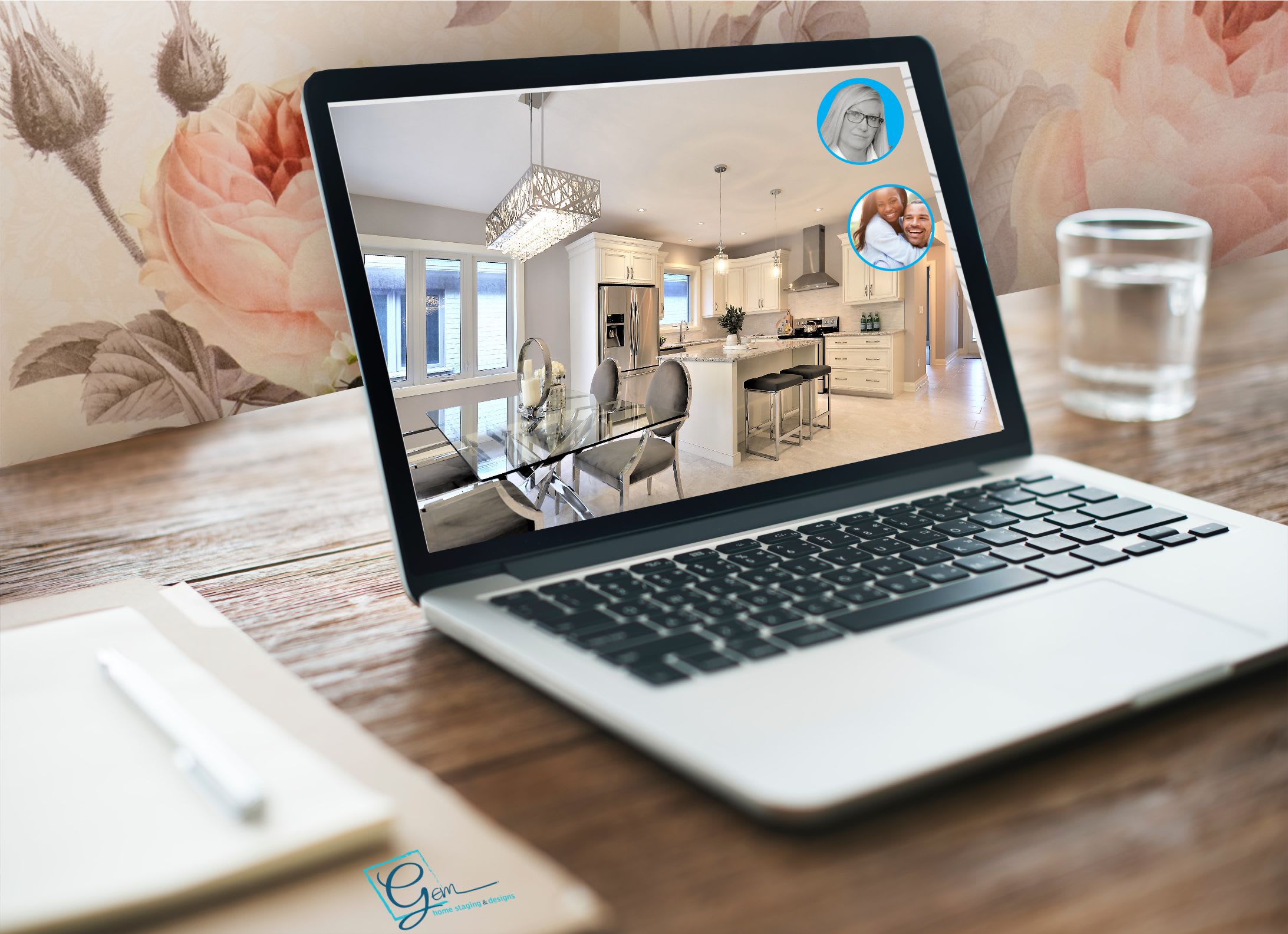 Virtual Online Consultations
Selling your house, decorating or even redesigning your home is an emotional and sometimes stressful experience. It is now compounded by social distancing and the new parameters of how we live, dictated by the Covid-19 pandemic. But even with this Canada-wide crisis, life must go on.  Entrepreneurs able to think outside-the-box so to speak, find a way to bring their services to their customers. After all, life goes-on, albeit limited and therefore new ways of doing business will find their way to you the consumer. Houses are still for sale, buyers are still looking and you need your home ready for the market. Or, after all this time spent in your home, you now want a new look and style. Gem Home Staging & Design can help!
Introducing iConnect
iConnect is our NEW virtual, online consultation service provided for those looking to prepare their home for the real estate market. It is the first step in our 3-step staging process. Additionally, iConnect is also the first step in your decorating or redesign project. 
The service provides the same result and at with the same investment as our in-person service, but now the service is offered online; made possible by communication tools such as Skype, FaceTime or WhatsApp. The purpose of a home staging consultation is to address the condition of the property prior to showcasing (staging) it. The process will allow us to virtually tour your property with your assistance to create a thorough and customized report for recommendations of necessary repairs, maintenance, decluttering, painting, and/or updates to help you achieve the most money for your home when selling.  The decorating or redesign consultation is delivered in the same manner with a different focus and report generated for your project. The fee structure is also a little different, we will be adding a separate page for this service in the very near future.   
Investment: 
$225 for properties under 3000 square feet (the best money you will ever spend in preparing your house for sale) 
$350 for properties over 3000 square feet
The iConnect Process:
The process is simple. An appointment is scheduled, a form is completed by you detailing the project along with photos requested prior to the online video chat. We then connect via Skype, FaceTime or WhatsApp and walk through your property together, viewing both the interior and exterior.  Once we have completed the tour of your property, we will prepare our report and send you (electronically) our recommendations along with our valued Homeowner Seller's Package or Homeowner Design Package depending on the service requested. 
Ensuring the well being of our community is our priority.   We are following recommendations from local Departments of Public Health, and the World Health Organization daily.

Our staging and design services will continue with everyone's health and safety top of mind.  We do ask for full disclosure when booking these services.  Please let us know if you are experiencing any symptoms or have traveled outside of Canada in the past 14 days.
So how can you stand out from the competition?
As a Certified Professional Stager and a Certified Interior Decorator, Gem Home Staging is one of the few stagers locally to have a 3,700 sq.ft. warehouse filled with home decor pieces to WOW buyers when they visit your home or property. Lynn MacMillan has years of experience and knowledge of Niagara and surrounding areas, she knows the real estate market and has the trades at her finger tips to take the stress out of selling your home.