Not every house is considered to be a luxury home, but that doesn't mean you can't make it seem luxurious. Learn from Interior Decorating and Certified Staging Professional Lynn MacMillan with these helpful ways to give your home a luxurious feel.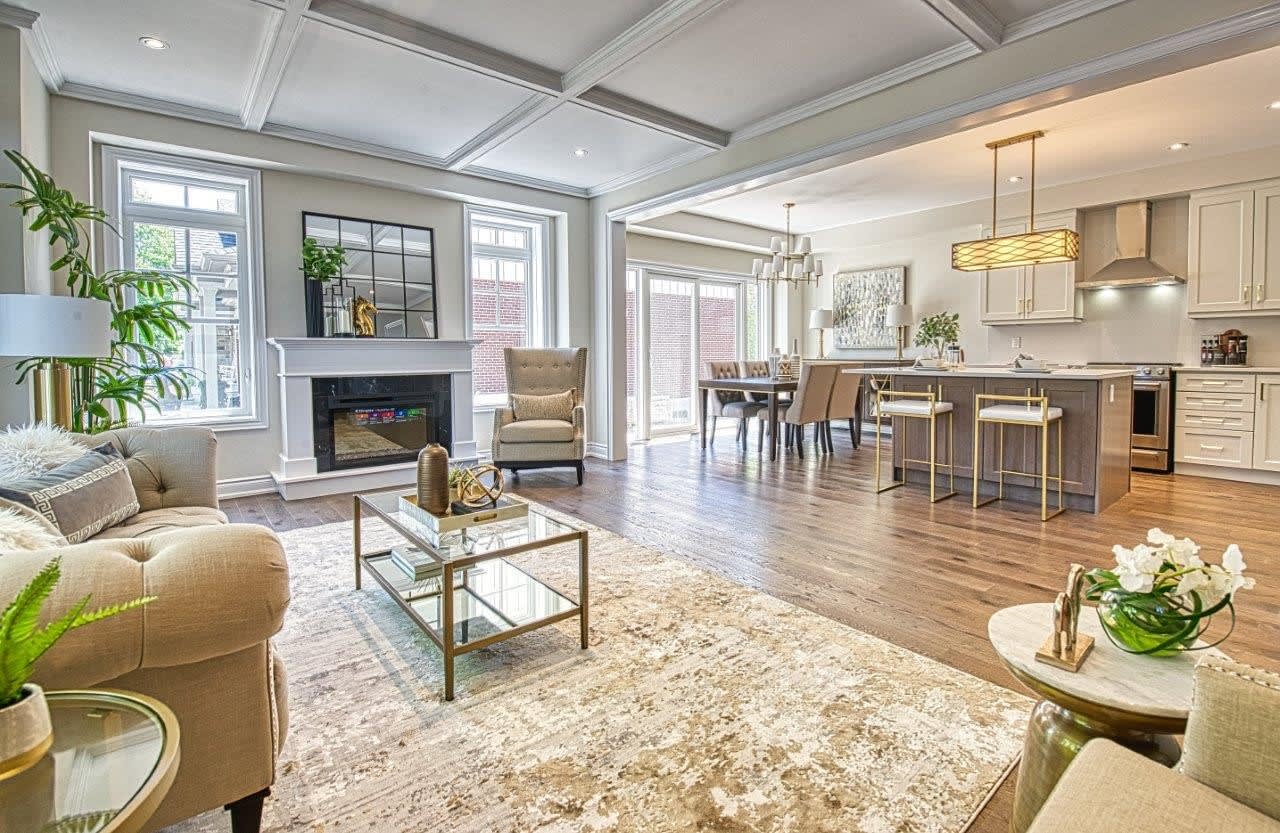 Buying expensive items and putting them in your home isn't going to make the house luxurious. One needs to consider the entire picture when changing the look and feel for that upscale look and feel. Gem Home Staging & Designs' lead designer shares her tips below:
Work Room by Room
Sure it will take time to create the luxury home you are looking for, but if you start by working on one room at a time, you will realize that look easier room by room instead of an entire house mismatched and incomplete. Start with the room you spend the most time in, even if that happens to be the kitchen or your primary bedroom. Because you are in this room more often than the others, you will appreciate the planning and changes made and make it easier to move on to the next room.

Add a Rug
Adding a rug in a room can draw attention to a specific space, help tie elements together and accent furniture and décor easily. Ensure the rug you choose is the right rug size for the space, choose a flat pile for high traffic areas and a high pile, textured rug for those areas of comfort and relaxation.  
Buy Art
Be particular in the art displayed on your walls. Look for something that appeals to your taste in art, but also fits the space and makes a statement. Art will draw the eye in the room, and accentuate furnishings and space. It doesn't need to be expensive, but oversize and dramatic does make a statement.
Keep It Simple
Neutral tones with pops of colour work well, add texture and layers with different colour pillows and throws, or maybe an accent wall. It might be the colour of the cabinets that acts as that differentiator, the art, or even a statement piece of furniture.

Lighting
Natural lighting will always make a room feel bright and welcoming, however lamps, hanging lights, chandeliers, can dramatically change the room for the look you are trying to achieve.  Consider what will give the room the best lighting while at the same time paying attention to the style of the light. If tabletop lamps are used, simply changing the shade can make a big difference. Change the type of lightbulb used for the ambiance you are trying to create – bright and functional, warm and cozy. 

Cabinets, Furniture & Countertops
Buy quality pieces with excellent workmanship, avoid laminates opting for solid woods, glass, brass, or chrome. Upscale your counter tops with granite or marble depending on your budget and don't forget the fixtures.  Choose fixtures to complement the counters and style of appliances and décor. If replacing countertops isn't in the budget, consider higher end handles for your cabinets, or a unique backsplash or new kitchen sink when working on the kitchen. 
Décor and Greenery
And don't forget the accent pieces or the addition of greenery. Plants add a slight pop of colour to the room, are inviting and if you choose the right houseplants, they can even help clean the air. When looking for décor pieces, choose items to complement the furniture, paint and feel of the room. These pieces can help draw the eye to the focal point you are trying to achieve and make a statement at the same time.
Everyone has a different sense of luxury, the important thing is that your home feels luxurious to you in the manner you want it to be. If you're not sure what you want, like or dislike, pick up a décor magazines or architectural design magazines and make a collage of the things you like. Visit a furniture store showroom as well for other ideas. Whether you are decorating your own home or hiring an interior decorator, knowing what you want, like and dislike will save many headaches through the process. And remember, if you are considering selling in the near future, decorate in a style that the typical buyer of your house is most likely to want as well. 

 
---
Gem Home Staging can help you transform your property whether you are preparing to sell, or want to create spaces you will love for years to come in your home.

Offering luxury home staging and interior decorating services for property owners throughout Niagara and the Golden Horseshoe, Lynn MacMillan has the experience to give you exactly what you're looking for. Contact her today.