Designs for the perfect kitchen - the heart of your home.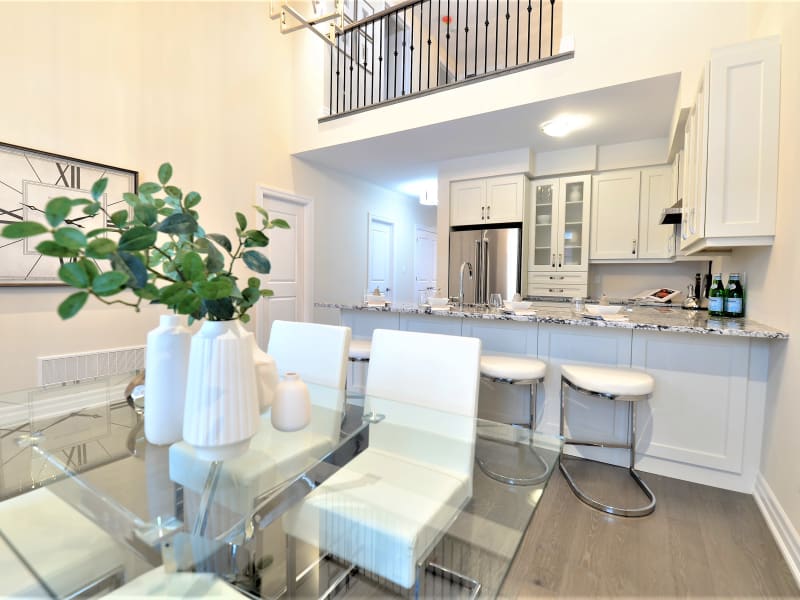 Love Your Kitchen 
We grew up hanging around in the kitchen doing homework, chatting with friends, family and neighbours, helping to prepare the daily meals and probably most of all relaxing with our morning cup of coffee before the day fully kicks off. It's the one room we spend the most time interacting with our family. We want the kitchen to be clean, comfortable, convenient, functional -- we expect alot from the kitchen because we spend so much time in it. Of course with the Covid-19 pandemic in 2020 and 2021, we are spending even more time in the kitchen - homeschooling, but more importantly, many have found the love of cooking again - gizmos, gadgets, new appliances and even complete kitchen renos have been completed to accommodate our desire to cook again! 
Today, homeowners want that dynamic kitchen -- a great looking kitchen with a clean, fresh, modern look while being absolutely functional and convenient. 
Join us as we explore some of the 2021 kitchen design trends. 
Light -- nothing is better than natural light in the kitchen, a bright space to work, cook, or have a coffee with friends.  There are so many unique lighting fixtures on the market today, making it easy to augment the natural light from the windows when needed.
Easy to clean with great lines and style
Countertops - in a recent article by Scott MacGillvray "How To Get the Best ROI in a Kitchen Reno", quartz is one of the best new additions to a kitchen for the best return on investment - plus quartz countertops look great, resisting damage and very durable. 
Bring the Outdoors, Indoors - not just in the kitchen, but throughout the house, homeowners are looking for new ways to bring the outdoors, indoors - for a more simplistic and natural lifestyle. The addition of house plants, natural materials, and fibres as well as earthy colour tones assist (but don't be afraid to add a pop of colour) and modernize with stainless steel appliances if possible. 
Farmhouse Kitchen, Modernized -- Who remembers hanging out in the farmhouse kitchen - big, comfortable, full of activity, totally functional and often two kitchens (the summer kitchen and the winter kitchen). While the dual kitchens won't be making a comeback anytime soon, That country style is popular today but now with a modern flair. 
Faucets that make a statement - gone are the days of the boring faucets and stainless steel traditional sinks -- homeowners are opting for unique faucets especially when built into an island - they have become somewhat of a focal point to make a statement about the modern kitchen 
Clean-faced cabinets - smooth faces free of hardware for a clean-slick look, more like a wall than traditional kitchen cupboards
Large islands - the central hang-out spot - big space for preparing meals, but also for friends and family to sit comfortably for a coffee, for the children to do homework and be included in the activity in the home, or a place to entertain with a glass of wine and an elaborate charcuterie board. Check out this article from HGTV -- 99 Beautiful Kitchen Island designs. 
Whether you are changing your kitchen to sell, or to enjoy the love of your kitchen for many years to come, always keep functionality, convenience and ease of upkeep in mind. 
---
Book a discovery call with Lynn, to see how an interior decorator can help give you the kitchen of your dreams, or prepare your kitchen for homebuyers when selling.